Hey John - (
thanks for the trust
) I wouldn't recommend anything that pours down the cleft, it can easily interfere with the cambial knitting necessary to connect the scions and heal the wound.
Wax cracks, I watched my Great Uncle mess with it - primitive in my opinion. Tar also cracks, and heats up tremendously in open sunlight. Also, it's liquid enough to run deeper and further than necessary into the void.
The masking tape job bothers me in that it leaves a drying and moisture collecting void under a thin coating of papertape and 'whatever.'
I once used quarried clay from a local hillside, progressing to
plumber's putty
after pluming my house. With no microbes, it appeared inert; and unlike the clay, didn't crack and chunk out over time. It's pliable when cool, stable, doesn't dry or crumble if well coated, and
it's cheap!
I never
mash
it inside the cleft as to fill every void, but likely fill 80%; making sure not to crowd the scion bases. I seal it over with
Doc Farwell's grafting compound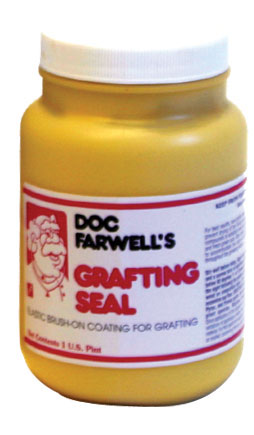 (
bright yellow
) – "two coats," even smear some putty over the extending splits below the scions to fill those cracks"
I use the cleft graft on larger dormant stock, but have wondered (if anyone had the patients) if lopping off said branch and allowing several latent water-suckers to shoot up -
then
whip & tongue grafting those the following season wouldn't be a better/cleaner connection?
On larger stocks I
Bark
, or Rind graft. Did a total of 66 Veneer Crown and Inverted L grafts on several well established trees last spring and lost only one scion! I also squished plumbers putty into all voids, followed by double-coats of Doc!