* The HOS Arboretum is CLOSED to the public until further notice.

2020 Community Orchard Program Membership Form (docx)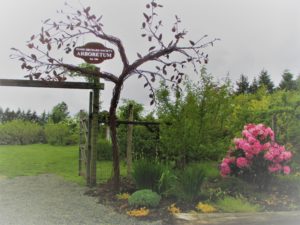 Welcome to the Home Orchard Society Arboretum! The Arboretum is a 1.6-acre demonstration orchard established and maintained by our organization, designed to showcase heirloom fruit varieties, organic orchard practices, cultural techniques, and much, much more.
Growing good fruit at home is not as hard as it seems, especially here in the Pacific Northwest. Our relatively mild winters (USDA zone 8) and long growing season allow us to grow many species of fruit bearing shrubs and trees. Expect the usual suspects here: apples, pears, plums, cherries, grapes, Asian pears, blueberries; but don't be surprised by all the other species! Quince, pineapple guava, figs, persimmons, pluots, medlar, olives, elderberry, pawpaws, currants, kiwis, and cane berries all rub shoulders here in Oregon. Check out the species list for the Arboretum (Excel Spreadsheet PDF) for more details.
Established in 1986 by members of the Home Orchard Society with the cooperation of Clackamas Community College, who owns the property, the Arboretum is mature orchard site, with an ever-changing palette of specimens. The site manager in charge of the orchard is constantly assessing individual plants for health, suitability to our climate, and quality of fruit. Chances are, you'll find something new with every visit.
Visitors to the Arboretum come for ideas on how to prune, laying out your home orchard, dealing with pests and disease, handling the harvest, and taste testing unusual varieties – especially apples, pears, and grapes! We even have awesome fall color on trees like Asian pears, pawpaws, and persimmons for those interested in trees that look good and have great fruit.
The Arboretum is a great opportunity for anyone with a little extra time to give volunteers are always welcome, whatever your skill level. Whether you are interested in learning how to graft, honing your pruning skills, or just need some pointers on planting your first tree, come on out! We also host student interns through the Clackamas Community College horticulture department, and are a great field trip for garden clubs and school groups of all ages.
People curious about new varieties or species are welcome to use the Arboretum as a source for propagation materials. We supply a great deal of the cuttings and scion wood each spring for the annual HOS Scion Exchange, and have traded scions with fruit enthusiasts as far away as Holland! Are you looking for something rare? Check our species list, and drop us a line.
The irony of the times we live in today is that the most popular fruit in Mexican supermarkets is the Red Delicious apple from Washington, and in American supermarkets it is the banana from Mexico. Growing good fruit at home helps us appreciate the long history and culture of our incredible temperate fruits. When the season comes on for your favorite fruits, it makes the waiting for them all the sweeter, knowing you've grown them yourself, like so many before you. Come join us at the Arboretum: celebrate fruit, celebrate sweetness, celebrate life.
The Arboretum is open to the public on Tuesdays and Saturdays from 9am-3pm. We welcome members, visitors, and volunteers year-round. One of the finest public gardens in Oregon, we're just twenty minutes south of Portland – come visit this incredible demonstration orchard!
The arboretum does close on occasion, please call before your visit to ensure that we are open.
Tonia Lordy, Arboretum Manager
503-338-8479
arboretum@homeorchardsociety.org